The most beautiful destinations to play golf in autumn in France.
Autumn, with its still mild temperatures in some regions of France, its beautiful colours and its lights, is a great time to get away on a golfing holiday! Take advantage of all the benefits of autumn to play golf in France for a weekend away from your daily routine.
Disconnect to reconnect with the essential in exceptional settings, where the autumn season remains pleasant for playing golf in beautiful conditions. Discover or rediscover our golf courses on the Landes Coast, the French Riviera or even Provence and enjoy great playing conditions between forests of maritime pines, fields of olive trees or vineyards of the Dordogne valley.
Take advantage of the season to practice and improve your golf game on the driving range of one of our three golf courses equipped with TrackMan Range technology, the most reliable connected golf simulator in the world! Visit the following golf courses: Golf de Seignosse, Golf Bastide de la Salette and Golf d'Opio-Valbonne.
Golf getaway in Autumn in Provence
Provence is one of the best places to play golf in autumn. The climate is still pleasant at this time of year, with beautiful sunny days that allow to live unforgettable golfing experiences, whether alone, with family or friends.
During your golfing holiday in Provence, we suggest you several golf courses with magnificent 18-hole courses in remarkable environments, perfect for letting go completely.
Discover the Baux-de-Provence in the charming 5-star hotel Le Vallon de Valrugues & Spa for a relaxing autumn golfing holiday. Play Golf de Servanes, a 18-hole course with stunning views, only 10 minutes from the hotel, or the Golf de Grand Avignon course, and enjoy a 25-minute massage at the hotel's Spa.
Unless you are more tempted by one of the two hotels we offer at the foot of the white rocks of the Alpilles. For this golf weekend in Provence, you will stay at the Hotel du côté des olivades, a 4-star hotel, or at the Hotel b-design and spa, a 5 star hotel, both offering a green fee at Golf de Servanes, as well as a breakfast formula.
A golfing holiday in Provence in autumn is also an opportunity to discover our two other collection golf courses: Golf Sainte Baume located in Nans-Les-Pins, which offers incredible views over the Sainte Baume massif, right in the heart of a preserved natural park, and Golf Bastide de la Salette, which welcomes you in Marseille, with magnificent panoramic views over the Phocaean basin.
Golf getaway in autumn on the French Riviera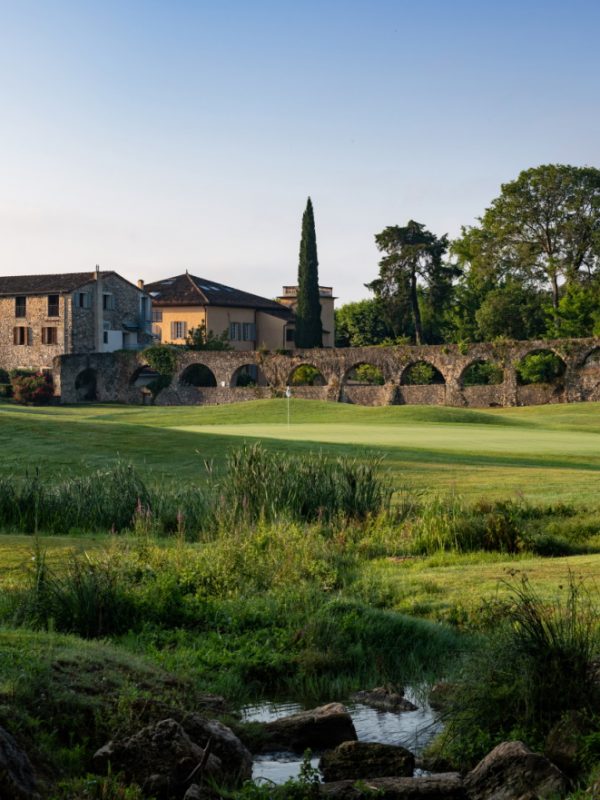 Take a golfing holiday in autumn on the French Riviera and enjoy ideal conditions, thanks to the temperate climate of this region where the days are still mild and sunny at this time of year. Your play will be rythmed with breathtaking panoramas of the Mediterranean Sea, magnificent views of Saint-Raphaël or even olive groves and forests as far as the eye can see. The ideal opportunity to experience exceptional moments before entering the winter period.
Top destination to play golf in France, the Château de la Bégude, our 4-star hotel in Opio, between Nice and Cannes, is ideal for an autumn stay on the French Riviera. Play a choice of three 18-hole courses, with an à-la-carte breakfast served at the table and a 6-course tasting dinner (excluding drinks). On site, you can discover the magnificent 18-hole course of the Opio-Valbonne Golf Club.
A true jewel of the French Riviera, this golf course unveils a 220-hectare estate in between sea and mountains, with a hilly terrain where an ancient Gallo-Roman aqueduct is nestled. Only 4 km away, the Golf de la Grande Bastide stretches along the hills of the hinterland of Nice, offering magnificent views over Grasse, Opio and Châteauneuf de Grasse. This golf course will challenge you with its well-defended greens, numerous bunkers and water hazards. Continue a little further and make a stop at the Golf de Roquebrune. Only 38km from the Château de la Bégude and 10 minutes from Saint-Raphaël and Sainte-Maxime, you will discover a preserved and timeless natural setting where you will feel alone in the world with its unobstructed view over the bay of Saint-Raphaël.
Golf getaway in autumn on the Landes Coast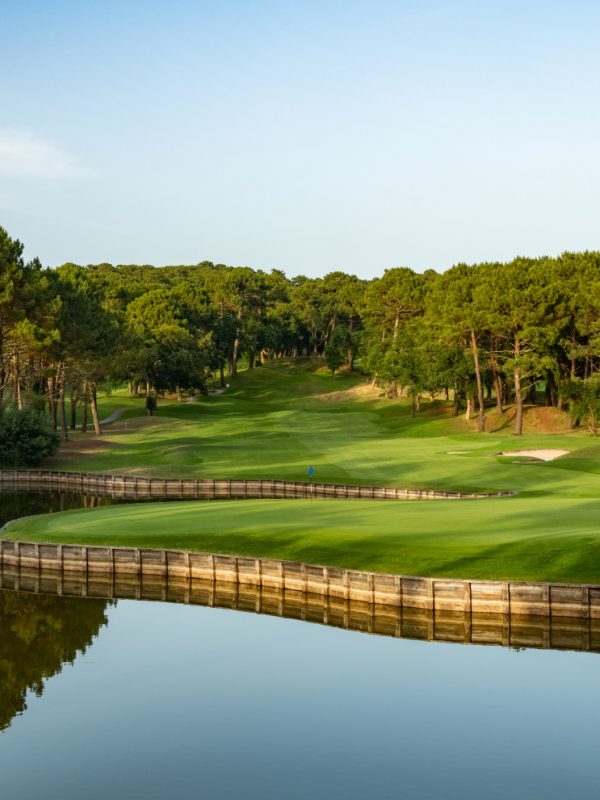 The Landes Coast offers its visitors a wilderness as far as the eye can see, with its long sandy beaches and maritime pine forests. The south of the Landes is an ideal destination for an autumn golf break. Renowned as a surf destination, the Landes Coast also attracts golfers for the quality of its 18-hole courses and its direct proximity to the golf courses of the Basque Country.
Autumn is a great time to enjoy a golfing holiday, our partner hotel 70 Hectares… & l'Océan, a 4-star hotel in Seignosse, welcomes you in the middle of pine and oak trees forest. You will feel cut off from the world, in total disconnection with your daily life to reconnect with the essential. Take advantage of its restaurant and its local seasonal cuisine for a gastronomic break in Seignosse.
A little further down the road is our collection golf course, the Golf de Seignosse, which is one of the most beautiful golf courses on the Basque Coast. You will play on an 18-hole golf course ranked among the most beautiful in Continental Europe and nestled in the heart of a maritime pine forest, designed by the famous architect Robert von Hagge. A real technical challenge awaits you with numerous undulating and winding fairways finishing on a magnificent par 6 of 666m (728 yards) which will bring you back to the club house where you can comfortably sit down to enjoy local products and have a drink in a pleasant setting.
Continue your journey to the north of the Landes region and stop at Golf de Moliets to discover an 18-hole course spread over 84 hectares of preserved nature on the edge of the Atlantic Ocean.