6 Resonance Golf Collection 18-hole courses in the TOP 50 ranking of the best courses in France in 2023!
Fairways Magazine has recently unveiled its new ranking, "Best Golf 2023," which showcases the 50 top 18-hole courses in France.
We are delighted to see 4 of our 18-hole collection courses and 2 partner courses from Resonance Golf Collection included. This recognition once again reflects the quality of our courses, our ongoing investments, and the impeccable maintenance we provide to ensure a superior playing experience regardless of the season.
We extend our heartfelt congratulations to our passionate teams who have consistently demonstrated excellence in their work on the ground.
In this special edition, you will also find an interview with Laurent Boissonnas, our General Manager, where he shares insights into the promise of our Resonance Golf Collection brand and our commitment to offering experiences beyond golf. These moments, whether as a couple, with family, or friends, allow for complete disconnection from daily life, providing an opportunity to reconnect with nature and the essentials.
He also discusses the investments made in our courses and the significance of the golf industry's role in ecological transition, a cause that is particularly close to our hearts. Our on-site teams work tirelessly to ensure the preservation of our natural resources and biodiversity.
Discover now our 6 18-hole golf courses in France that resonates in this Best Golf 2023 ranking.
The 4 Resonance Collection courses:
10th | Golf du Touquet – « La Mer » course
12th | Golfs d'Hardelot – « Les Dunes » course
18th | Golf de Seignosse
35th | Golfs d'Hardelot – « Les Pins » course
Renowned for the richness of the surrounding heritage, our golf courses are located in the heart of France's most beautiful golf destinations.
Just like the Opal Coast and Landes Coast, both famous for offering exceptional courses amidst dune beaches and pine forests.
The 18-hole courses of Golf du Touquet and Golf d'Hardelot stretch along the North Coast of France. Designed by renowned architects Harry Colt (La Mer), Tom Simpson (Les Pins), Paul Rollin, and Jean-Claude Cornillot (Les Dunes), these three courses on the Opal Coast offer an unforgettable golfing challenge. They still resonate in the memories of those who have played them. The Touquet Golf Resort also offers visiting golfers the opportunity to stay at its magnificent Manoir Hôtel, recently awarded its fourth star, providing a relaxing stay in close proximity to nature.
As for Golf de Seignosse, it distinguishes itself with its remarkable beauty. Considered one of the gems of the Landes Coast, this 18-hole course by Robert von Hagge offers a splendid challenge with its undulating fairways nestled among maritime pines. In this untamed setting, you will experience an unforgettable golfing journey! Whether you wish to unwind on the restaurant terrace, overlooking the 18th hole's green, or indulge in our signature Resonance cocktail and tapas at KBANE—an innovative concept on a golf course—your every desire will be fulfilled. Don't forget to spend some time hitting balls at the state-of-the-art Seignosse driving range equipped with TrackMan Range technology!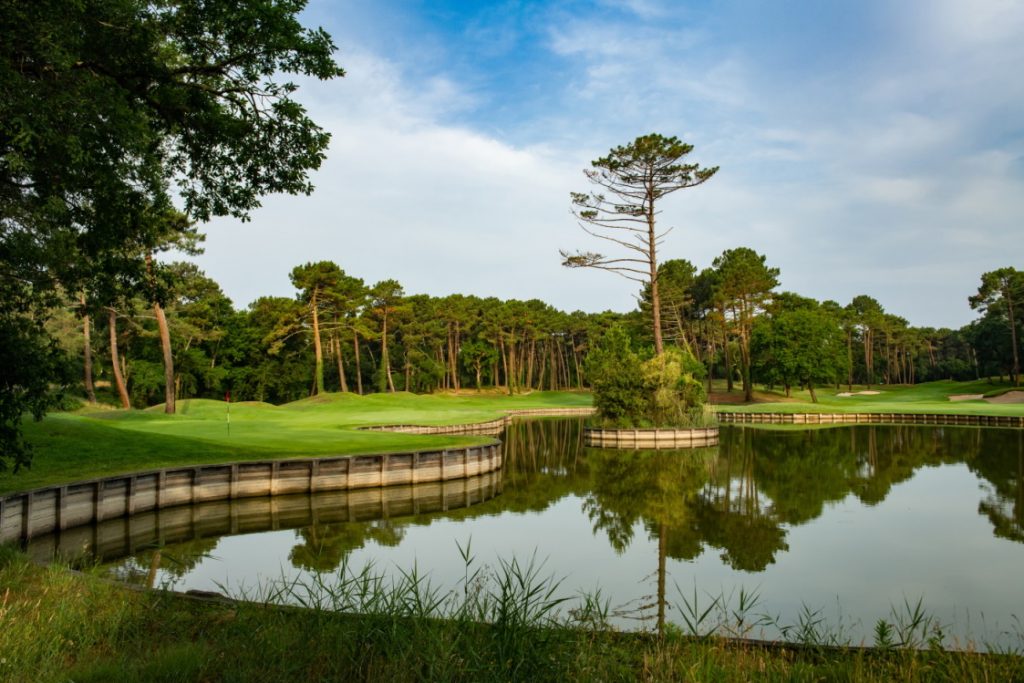 Our partner courses in the ranking
3rd | Le Golf National – "Albatros" course
41st | Golf de Moliets
In this 2023 ranking, our partner golf courses are also honored, with a notable podium placement for the Albatros course at Le Golf National, located near Paris. This legendary course continues to captivate golfers and will be the stage for the 2024 Olympic Games, while still being accessible to players with a handicap index of 28.
Returning to the Landes Coast, Golf de Moliets is also featured in this ranking. Located not far from Golf de Seignosse, this 18-hole course will enchant you with its exceptional land and sea setting, stimulating all your senses. Allow your swing to resonate harmoniously with the sound of the Atlantic Ocean's waves.